Braless Solange Debuts Blonde Hair While Posing in Sheer Top
is definitely a style chameleon. While she has been known for her signature natural curly, dark locks, the "Cranes in the Sky" hitmaker surprised fans as she just debuted a bold new look on Instagram with a photo that found her rocking short, blonde afro hair.
Looking as stylish as ever, Solange sported a sheer, lacy white blazer, black pants and huge hoop earrings as she stood in what appeared to be a breezy field. The sister of proudly flaunted her breasts in the daring top as she closed her metallic silver eyelids.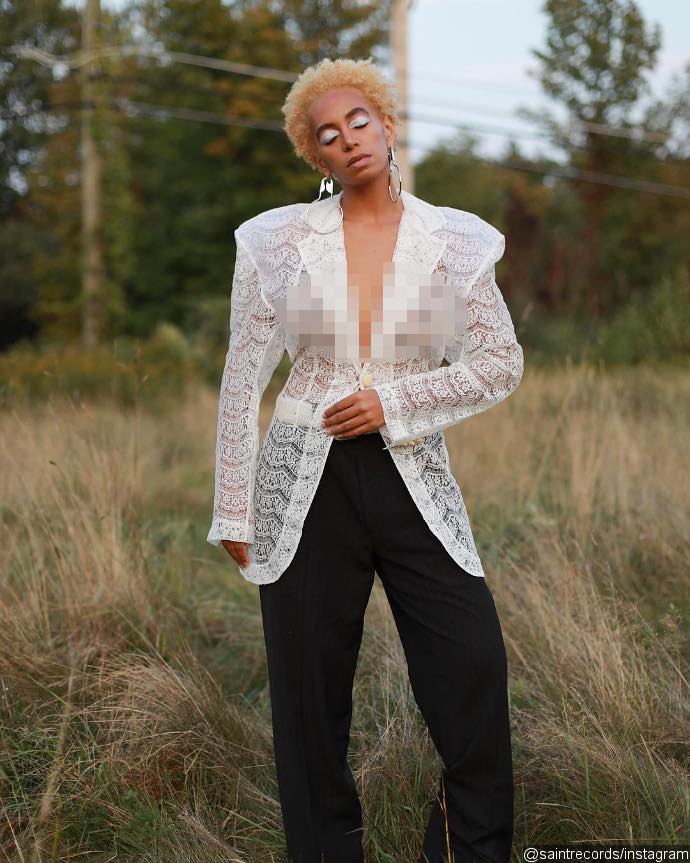 Fans couldn't seem to handle Solange's hair transformation, though. "My jaw just literally dropped open!!! Omg, you are stunning queen," a fan wrote in the comment section, while another gushed, "Breathtaking! I mean seriously freaking breathtaking!" Another fan was inspired as writing, "Now I wanna dye and cut my hair damn U Solo!!"
Hours after she debuted the new cut, Solange rocked another bold 'do while attending Maryam Nassir Zadeh's Spring 2018 runway at New York Fashion Week. She ditched her afro cut for extra long blonde braids, which were artfully bedecked with strategically-placed strings and shells.
Prior to this, the singer revealed that she's always experimental with her hair. "My mom owned a hair salon in Houston," she recalled. "She didn't have sitters, so she'd pick my sister and me up from school, and we'd spend evenings there. We saw women cut their hair and get extensions the next day; the transformation was powerful. So when we were little, we both cut all our hair off, then we said, 'Put it back!' She encouraged us to try things–that was huge."
However, she realized the importance of celebrating natural hair. "I think many people, especially from other cultures, just don't understand the role hair plays in Black women's lives. I can now transform the energy surrounding my hair into something way more productive," she shared. "I think the key is to find styles that give me flexibility."